Need help to craft the perfect wedding flash mob?
Email us or call 855-435-2746) to learn more.
Congratulations on your engagement! Now you have a wedding to plan and lots of celebrating to do. A wedding flash mob can be a unique way to add an element of surprise for your sweetheart and your guests. We can help you create a customized experience for any of your upcoming wedding events:
Engagement Party
Bachelor/Bachelorette Party
Rehearsal Dinner
Wedding Ceremony or Reception
Honeymoon Surprise
Vow Renewal
Special Anniversary and more!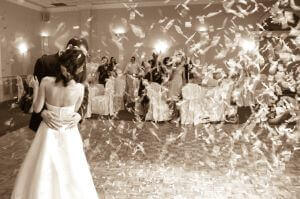 "The entire event from start to finish was an absolute dream come true! Steph and I couldn't be happier. It was the most amazing night of our lives."
– Jason Blonder, held a flash mob at the Grand Hyatt in NYC
You choose the music, the theme and if you want family or friends involved and we will take care of all the details. We can also provide professional dancers, live music, and videography – just tell us what you want to make happen!
Fill out our form or call 855-435-2746) to get started.

Tell us about the event you would like to organize. We'll be in touch to help you.
Read why our clients rave about our services:
"Kristin and I are still in cloud nine enjoying all the fun memories created on our special day! We were so happy and fortunate to work with Melissa, she is a wonderful choreographer and a truly warm and charming being. I am seriously challenged in the dancing department but she created a choreography that was charming and fun and beautiful and easy to follow! She made us all feel comfortable and relaxed even the days before our wedding when our stress level was almost out of control; she even played the role of life coach! We loved our dancers, they all were so committed and fun. We could have not ask for a better team it was a match made in heaven. So, in a nutshell … it was amazing!" – Julia Barillas

"Thank you so much for making our wedding day a memorable event for us and our guests! Our vision for our wedding was to be different and really give our guests a surprise. What better way to do that then to hire your flash mob dancers? The best part was that my nieces, son and I participated and practiced with the flash mobbers the week of the wedding. It was a hit. My guests were completely blown away. The choreography was amazing. We can't thank you enough. We have been complemented till this day how this was the best wedding our guests have been to. If I could do it all again I definitely would!" – Jennifer Sanchez

"I have no words to describe how fantastic today was! It really was a once in a lifetime experience for Jessica and all of our guests. Your professionalism throughout the whole process was inspiring so thank you from the bottom of my heart!" – Amanda Moritz

"The entire event from start to finish was an absolute dream come true! Steph and I couldn't be happier. It was the most amazing night of our lives." – Jason Blonder

""I'm incredibly happy and over the moon. Thank you. The flash mob proposal was so special because we have not only a proposal, but an experience that was captured on film so we will have it to cherish forever. None of this would have been possible without the best coordinator ever, Lisa, who held my hand every step of the way. Without you guys I wouldn't have what many are calling the "best proposal ever!". Thanks so much for everything! Especially to Lisa she rocks and I truly could not have pulled this off without her!" – Timmie Brann

"Love the Video! Everyone did such an amazing job! Thank you for making my day so special!" – Matt Almassian
To speak with one of our specialists, call 855-435-2746 or fill out our form.