We are the #1 largest, highly-acclaimed, worldwide community of professional experiential flash mob choreographers and producers, helping hundreds of individuals celebrate, companies entertain, and marketers create engaging, themed flash mob surprises for their targeted audiences.
BookAFlashMob.com has produced more flash mobs than any other company worldwide. Whatever you have in mind, we have likely done something very similar before.
Speak with our Award-Winning Local Dance Flash Mob Experts about hiring a flash mob at 855-435-2746 or Use our Free Consult & Price Quote Form to connect with the same creative talents that has served the NBA, Live Nation, Disney, MTV, Google, Samsung, Salesforce, Pepsi, Coca-Cola, Pandora, Planet Fitness, Project Runway, T-Mobile, Bain Capital, Unilever, IBM, Chicago Blackhawks, Sears, American Heart Foundation, Symantec, Hyatt, USPS, Monster,  Nasco, Philips, Campbell, Micron, SC Johnson, RCA, Bulgari, Wells Fargo, Univision, Lufthansa, KPMG, Brookfield, Berkshire Hathaway, Tourism Board of Columbia, Clarins, Quest Diagnostics, Prudential, Baxter, Corona, Scholastic, Urban Outfitters, Capital One, A&E Networks, The Mars Company, Tufts Health Plan, Sentinel One, Lifetime Networks, Prospect Park, Cornell Tech, SugarCRM, Seiko and many more, including well OVER 10% OF THE FORTUNE 500.
BookAFlashMob brings the arts directly into people's lives through surprise and engaging dance, theater and musical creative surprise performances and local flash mobs for hire. Whether it is for a flash mob proposal, wedding, company event, holiday party, conference, festival, team activity, birthday, marketing or advertising campaign, you can hire dancers and choreographers at the ready in most major cities through our flash mob production company.
As a nonprofit, 100% of all proceeds go to our programs for commissioning, casting, producing and performing truly unique and inspiring surprises through the arts, creating new opportunities for over 20,000 artists to date.
"A big thank you to the entire team for putting together an incredible 500 person flash mob in five cities! Pretty sure no one else would've turned this around with the same level of professionalism, expertise and enthusiasm! Thank you again for acting as true partners throughout this process and for putting together an incredible event."
– Saskia Sorrosa, VP Marketing, NATIONAL BASKETBALL ASSOCIATION, simultaneous local flash mobs in 5 cities for NBA Playoffs marketing campaign.
---

"BookAFlashMob.com were great partners who seamlessly and professionally worked with our team to put all the elements together for one of our top clients. Their ability to work closely with our team to adapt to our client's needs was exceptional. They met every request and delivered smart creative solutions along each step of the way."
– Bret Mactavish, Senior Account Director, LEADDOG MARKETING, hired flash mob marketing for top client's press announcement.
---

"From a disruptive segment in our exhibit hall, to a sit down banquet starter, they provided exceptional talent, creative direction and managed logistics with ease. Both clients noted that this was received as one of the coolest highlights of the conferences. Recommended – a big yes. These guys deliver!"
– Craig Nesbitt, Media Event Concepts, hired for IBM leadership conference entertainment.
---

"Everyone had so much fun and the flash mob performance was a hit. The flash mob team was amazing to work with. Thanks again for everything and we look forward to working with you on future events."
– Angie Guerra, SYMANTEC, hired our flash mob for company store launch.
---

"The event was a huge success and everyone was very happy. The flash mob looked great and was a lot of fun. Pleasure working with you!"
– Jenna Ebbink, Fingerprint Communications, hired our team for SEARS marketing campaign launch featuring Derek Hough of Dancing with the Stars.
---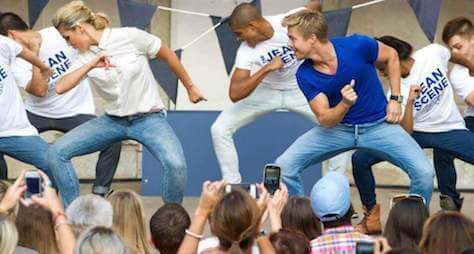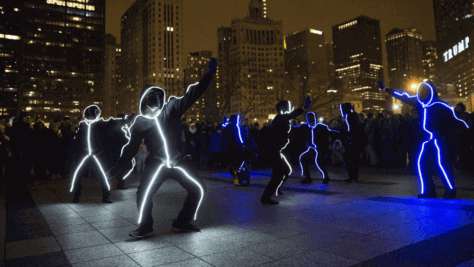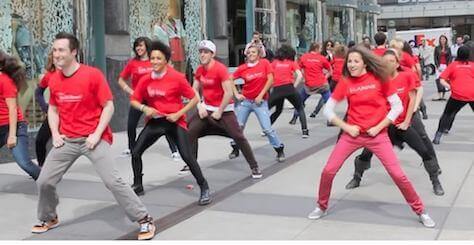 Hire a Flash Mob Company. Corporate Flash Mob for hire. hiring Flash Mob America Best new york Flash Mobs. flash mob companies. big hit event. big hit events. big hit flash mob hire. flash mob cost.