Our customers say it best!
Questions?  Email or call 855-435-2746 for your free consultation.
Join the hundreds of customers each year for whom we have the pleasure of helping to craft the perfect moment. Our flash mobs make an exciting and memorable addition to all kinds of personal events: marriage proposals, weddings, birthdays, anniversaries, baby showers, sweet sixteen's, retirement surprises, holiday parties and more!
Read why our clients rave about our services:
"Kristin and I are still in cloud nine enjoying all the fun memories created on our special day! We were so happy and fortunate to work with Melissa, she is a wonderful choreographer and a truly warm and charming being. I am seriously challenged in the dancing department but she created a choreography that was charming and fun and beautiful and easy to follow! She made us all feel comfortable and relaxed even the days before our wedding when our stress level was almost out of control; she even played the role of life coach! We loved our dancers, they all were so committed and fun. We could have not ask for a better team it was a match made in heaven. So, in a nutshell … it was amazing!"  – Julia Barillas

"Thank you so much for making our wedding day a memorable event for us and our guests! Our vision for our wedding was to be different and really give our guests a surprise. What better way to do that then to hire your flash mob dancers? The best part was that my nieces, son and I participated and practiced with the flash mobbers the week of the wedding. It was a hit. My guests were completely blown away. From some of the flash mobbers dressed as guests to the others dressed as waiters and served my guests in the cocktail hour. Once my husband and I walked in and had our first dance, the surprise then kicked in. Our theme was an 80's theme so the song mix was songs from the 80's. The choreography was amazing by Melissa Mooney. She is extremely talented! We can't thank you enough. We have been complimented till this day how this was the best wedding our guests have been to. If I could do it all again I definitely would!" – Jennifer Sanchez

"I have no words to describe how fantastic today was! It really was a once in a lifetime experience for Jessica and all of our guests. Your professionalism throughout the whole process was inspiring so thank you from the bottom of my heart!" – Amanda Moritz

"I felt that you and your team were a true pleasure to work with. I wanted to create a memorable "Once in a Lifetime" experience for my partner when I proposed. She dreamed of having an amazing moment like the one your team was able to help me deliver! I was amazed at how truly affordable it was to get a production such as the one Winifred and her dancers created. Thank you for making this dream a reality. I was able to do a flash mob, in a different state from where I lived, and surprise my fiancé with something she would never expect! We also have a video to remember this special day and moment. I would certainly recommend you for any special events, birthdays, proposals, etc… Thank you!" – Brandy Allen

"Everything went great! Thank you so much for helping coordinate everything. If my friends or I ever need anything in the future, we will contact you!" – Katie Richards

"This was the best gift I've ever gotten…I love you D'Anthony! It was beautiful! A big thanks to all who were a part of this surprise. you sure made a memory I'll never forget." – Vanessa Dixon

"The flash mob was incredible. Thank you for getting back to me on such a short notice and working with me to make this day unforgettable for both of us. Amazing job on editing the video, I really appreciate all the work you put into making our special day as memorable as possible. We can't stop watching it." – Gastis Skele

"It was an absolutely wonderful experience. I strongly believe that Winifred was dedicated to the success of the performance and adding as much value as possible to every penny I paid. I cannot thank you nor her enough to reflect my immense gratitude for a memory that I'll surely never forget and could never regret." – Taylor Worley

"Words will never be able to capture how grateful and thrilled I am for the amazing flash mob that you created and executed for my engagement to my partner Drew at the Bethesda Angel Fountain in Central Park. The planning, the creative and spiritual choreography, and the execution were beyond perfection. As you noticed we were quite touched and emotional. I watched the faces of all your dancers who, in the midst of their dancing, still maintained eye contact and connection with us and with the huge audience that gathered once it all began. You all have created an unforgettable experience that touched even so many strangers and tourist who happily stumbled upon the scene at the right time and the right place. One such example was the couple from Denmark who shared that this was the highlight of their trip to New York City. I am eternally grateful and filled with joy and wonder." – Carl Marucci

"The experience was surreal and more than I expected. Seems like I was in a dream while it happened. Same with my fiancee. To us, it was worth the experience and memories." – Ken Klavon

"Love the Video! Everyone did such an amazing job! Thank you for making my day so special!" – Matt Almassian

"Everything was beautiful, very happy with the flash mob, the location was awesome in the middle of times square i couldn't ask for more. Rocio loved it and she watched the video 5 times already and she cries every time. Thanks for everything again! hope to do business with you again for some other special occasion." – Gaston Beltran

"The event was absolutely fantastic. I could not have asked for a more amazing or special event! Melissa went way beyond what I ever could have imagined and was so invested in the success of the event. My fiancé was completely surprised which made it even better. My fiancé says thank you very much for helping make it a special day and that she absolutely loved it! As for the video, we love it so much and couldn't have asked for a better video and overall experience! Stephen, you found the absolute BEST choreographer for me and I am so glad it was as rewarding as it was." – Andrew Stoker

"I WAS SHOCKED WITH THE AMOUNT OF PEOPLE that Derek brought to the flash mob and the job that was done. I would recommend using this company to book a flash mob for any event. Amazing company that helped with my amazing proposal that MY FIANCE IS STILL TALKING ABOUT AND SHOWING TO EVERYONE!" – Damien Mosier

"It was great! My daughter loved it. All the guests were so surprised and the dancers were wonderful. Thanks again for making it so special. We all appreciated it!" – Miriam Steinberg

"I couldn't have asked for things to go any smoother. Thank you so much for making this experience so wonderful and memorable." – Nicholas Gough

"All in all, it was an amazing experience, and it was so much fun planning it. Mitchell was awesome to work with personally, and he did wonders collaborating with the parade committee. I couldn't have asked for a better experience, honestly. You guys are amazing!" – Josh Shanks

"The process was good and very easy, I'm very pleased with the customer service and Sidra was a complete pleasure to work with." – Shelby Hernandez

"Laura and her troupe were fantastic, energetic, great fun. organized, prompt. They knocked our guests out! Great fun." – Jimmy Reiss

"Thank you so much, this video is amazing!" – Matthew Goldman

"Words can't describe how perfect a surprise it was. Eva and the dancers were AMAZING. Everyone there commented on how professional and friendly they were. Your company helped me "knock it out of the park!" I simply cannot say enough how thankful I am to you for taking on the challenge on such short notice. The head chef of the restaurant, Anthony Goncalves, pulled me aside to say this was best event he's ever hosted there. All of our guests made similar comments. Most of all you helped make my wife say that this was the happiest day of her life next to the birth of our children. Mission accomplished. Thank you!" – Gaurang Trivedi

"As a person who has just finished with an event that both I and my future bride will remember always, I'd like to encourage anyone considering the idea of a flash mob for a special event to talk and work with Rachel and BookAFlashMob.com. I have never done anything like this before but used this organization for a special event/engagement and they were terrific. They did everything they had promised and I could be more satisfied and happy with the results. The local planner did an outstanding job taking my ideas and fashioning them into an event that neither my fiance nor I will ever forget. I am extremely grateful for their help, professionalism, and sensitivity. Thank you." – Bill Snyder

"The only expression to describe the whole experience from the planning to the actual flash mob is fabulous. You made the most important moment a really remarkable event, which we will never forget: A dream come true! All the organization was characterized by professionalism, reliability, efficiency and flexibility to fully suit my needs. You even helped me to realize the most extraordinary ideas and surprise my fiancée with something she would have never been able to think of. Thank you so much!" – Sebastian Wolf

"BookAFlashMob.com made my engagement special, memorable and unforgettable. From the start to finish, they were professional, organized, and kept me up to date with the latest updates. I would Highly recommend them for whatever occasion you might want a flash mob." – John Valdes

"Thanks so much for getting the video to us so quickly! It was so fun!" – Angel Nguyen

"I just want to tell you how fantastic everything was! If anyone is ever looking for a flash mob I will absolutely refer you!" – Jeff Sirriyeh

"I just want to start by saying you did a amazing job in putting this together for my special day. Emily was great. I really appreciate the hard work and effort you guys did. Again, thank you for everything." – Jason Cosme


"Working with BookAFlashMob.com was an absolutely wonderful experience! They helped to bring my vision for my flashmob to life. What they produced was beyond what I could have even imagined. The choreographers that were brought on to the project were extremely talented and created an unbelievably impressive and exciting dance routine. The dancers brought such a high energy to their performance and made the flashmob super fun and entertaining. I would absolutely use their services again and highly recommend them!" – Elliot Dvorin

"I have to say the event was AMAZING! I know you pump a ton of these out regularly, but I have to say you made it feel like you were working only on mine and felt like you put your heart and soul into it. This event was special because of your expertise and your magic touch." – Robin Roberts

"Thanks for your help. We very happy!" – Lee Cheng-Han

"I really appreciate you putting everything together and setting me up with such a great choreographer! You guys really made everything happen. Thanks again." – Salman Ali

"The entire event from start to finish was an absolute dream come true! Steph and I couldn't be happier. It was the most amazing night of our lives." – Jason Blonder

"I finally had a chance to read my emails after our long break/vacation. Thank you so much for doing such a wonderful job on the flash mob. Jennifer had absolutely no idea and it was a huge success. The video was great and captured the moment perfectly!" – Charonda Wilson

"Thanks guys for making of this opportunity the greatest so far. You don't know how many smiles and tears of Joy you've triggered among family and friends. Please extend my gratitude to all your staff along with the other dancers too, who also made this opportunity a unique one. People are going even crazier now with the video. If your intention was to make a difference… You nailed it. Everyone and I mean everyone liked it. Even people that I have years without knowing from then are congratulating us. Also all the women cry for some reason after they see the video, even some men too, at least the few that have told me though." – Luis Thomas


"It was perfect, thank you so much. I also wanted to thank you for all you did for me. I really appreciate it. Both you and your company have our highest regards and I will be recommending you to everybody!" – Gary Gale

"I just want to say thank you so much for setting this up for me and giving me the best choreographer ever! It went on like planned and even more!!!!! They did an amazing job! You are the best flash mob by far!!!!!" – Cory Rivera

"Thank you so much for an amazing flash mob. It was fantastic!! Deborah loved it so much, it will be memories for a life time. Your group of dancers did a magic job." – Ryan Chapman

"It was amazing! Better than we imagined. Thank you so very much." – Denise Serio

"Thank you both sooooooooooo much. Carol said yes and was blown away by the entire experience. I will highly recommend you both. It was a magical day/evening for us and our friends and family." – Toni Haber


"It went extremely well! Very professional and Lisa was great to work with..she had everything set up and it felt right out of the 80's.I would highly recommend her. I would also like to thank you for bending slightly on your protocol and making me feel comfortable before moving forward with the dance team.I wish you and your family a wonderful and safe holiday.Thanks again." – Erik Hiljus

"It was great! My family and friends loved it! Thanks so much!" – Samantha Sichenze

"It was awesome!! My little part was a little off, but Donita was happy and even cried, so I couldn't have asked for a better night. Thank you for EVERYTHING." – Kristen Powers

"I just wanted to let you know that the Flash Mob at my sons birthday party was the hit of the evening. There were an estimated 200 people there when Mila brought out the crew and started off the singing and dancing. At the end of the night, everyone was taking about it and how awesome it turned out. Mila is fabulous in every way. She took complete control and led the girls in a wonderful, exciting, fun filled performance. I would recommend her services to anyone wanting to have a very different event for a special person in their lives. I can't wait to see the video. Thank you all, and particularly Mila, for a great time at my sons 50th." – Howard Baer

"Thank you. Everything went perfect. Thank you again for all of your help with everything, the flash mob made the perfect proposal. My fiance and I are very happy." – Michelle Malters

"Your dancers n the staff Were all AMAZING!! We had such a great time with jan & the zombie flash mob was perfect and exactly what I wanted!!!!
" – Ashley Correa

"THANK YOU SO MUCH. The flash mob was wonderful, the girls loved it and they could not have been nicer nor more professional. It is a memory that will stay with us forever thank you once again." – Diana Grffin

"My friends and family all had a great time and most of all Michelle was very surprised. Overall it was a very special experience for us and we all enjoyed it. Thank you again!" – Michael Garza

"Oh my goodness I am so happy and want to do that so many more times. Everyone was blown away. The girls were AMAZING. Please tell them thank you and that everyone thought they were great. And of course I have to thank you. You made this experience so relaxing and exciting at the same time. You guys rock." –  Marissa Shapiro

"The flash mob this past Saturday worked out great. My fiance was completely surprised as well as the guests at my cookout. Everything ended up even better than I could have imagined. Amina and her team was a pleasure to work with and well surpassed my expectations. Thanks for your help!!!" – Lynnette Clark

"This is perfect. It turned out great! Love it! Thanks so much for all your coordination! She was totally surprised and we had such a great time!" – Dorothy Britt

 "The flash mob was awesome!! My son was surprised. When they started dancing he realized and actually joined them! Thanks for everything. The dancers were great!" – Sue Hamilton

"It went amazing! Nina was so surprised and it was perfect. Thank you so much for helping coordinate the most special day for us, we truly appreciate it and will never forget it." – Sam Patel

"Thanks for your help. We very happy and enjoyed it!" – Lee Cheng-Han

"Everything went off very well. Mitchell and the dancers were great!! We had a blast." – Robin Seiz

"It was a hit! Jess did a great job, the dancers were wonderful and everyone was surprised and had a lot of fun! 🙂 Thank you!" – Tammi Alexander

"Thank you both so much for everything, you guys helped me make that day one of the most memorable experiences for her and for me." – Pablo Robles

"Thank you Rachel. It really was great. Such a surprise. And Joshua and his team were the best. I'd recommend them anytime!" – Charles Tetrick

"I wanted to let you know everything went beyond perfect. It was extremely amazing. Cannot thank you and Mitchell enough. It was beautiful." – Joe Westrich

"Great video and pics! Perfect… Sigh. What a great day and great production." – Dave Ormesher

"I'm incredibly happy and over the moon. Thank you. The flash mob proposal was so special because we have not only a proposal, but an experience that was captured on film so we will have it to cherish forever. None of this would have been possible without the best coordinator ever, Lisa, who held my hand every step of the way. Without you guys I wouldn't have what many are calling the "best proposal ever!". Thanks so much for everything! Especially to Lisa she rocks and I truly could not have pulled this off without her!" – Timmie Brann

"Love the video! Everyone did such an amazing job! Thank you for making my day so special!" – Matt Almassian
To speak with one of our flash mob experts, call 855-435-2746 or use our form.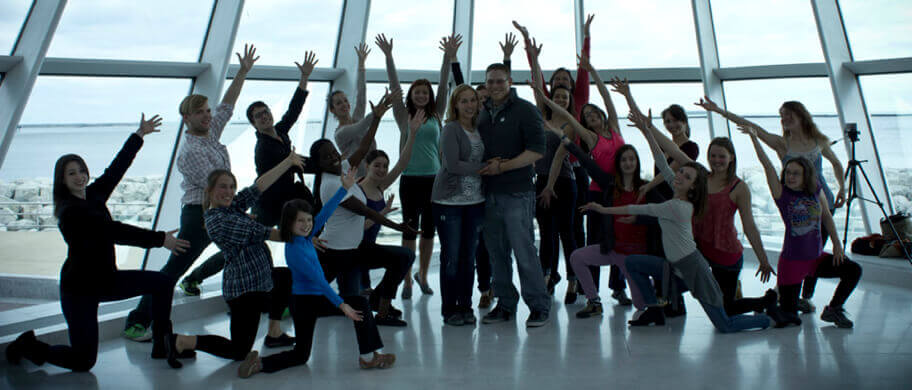 Taylor's Flash Mob Marriage Proposal

Karen's Birthday Flash Mob Surprise


Lonny's Personal Flash Mob